SEKOLAH SOSIAL OLAHRAGA REAL MADRID AKAN BERDIRI DI YOGYAKARTA
Primary tabs
Submitted by

adminuny

on Thu, 2011-11-17 16:28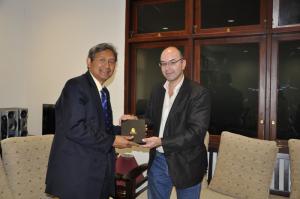 Tim dari Yayasan Real Madrid Foundation, area de Proyectos Internacionales, Ignacio De Almagro bertemu Rektor Universitas Negeri Yogyakarta, Prof. Dr. Rochmat Wahab, M.Pd., MA, Selasa (8/11). Pertemuan tersebut dalam  rangka persiapan pendirian sekolah sosial olahraga Real Madrid Foundation (SSO RMF) di Yogyakarta. Sebelumnya, Real Madrid Foundation dengan di dampingi pengurus Liga Pendidikan Indonesia (LPI) melakukan dialog bersama Dekan FIK UNY, Rumpis Agus Sudarko, M.S, Pengurus KONI DIY, Dinas Pendidikan DIY, serta media masa bertempat di kampus GPLA FIK.
Rektor memberikan apresiasi positif dengan akan dibukanya SSO RMF di Yogyakarta. Terlebih sekolah ini ke depan direncanakan untuk memberikan kesempatan kepada anak-anak yang memilki masalah sosial namun  memiliki potensi tinggi dalam bidang olahraga khususnya sepak bola.  Rektor mengatakan ke depan sekolah ini bukan untuk menangani masalah sosial mereka, tetapi untuk  mengembangkan bakat sepak bola mereka. "Dengan kesadaran tinggi bagaimana kita bisa memaknainya menjadi how to know, how to do and how to owner. Selain ketrampilan sepakbola mereka juga harus diberikan bekal ilmu pengetahuan agar bermanfaat untuk masa depan", ujar Rektor.
Sementara Almagro menjelaskan, dipilihnya Yogyakarta, diawali saat Real Madrid Foundation memberikan penawaran kerjasama pendirian sekolah sosial olahraga yang dikhususnya untuk anak anak usia 6-17 tahun berjenis kelamin laki-laki dan perempuan. Beberapa proposal  yang lolos seleksi dikunjungi oleh Tim Real Madrid Foundation. Setelah melihat berbagai sarana olahraga di FIK UNY,  maka Yogyakarta dengan dukungan fasilitas dari FIK dianggap siap untuk pendirian SSO RMF. Selain Yogyakarta, 6 kota besar lainnya yang akan didirikan SSO RMF adalah Banda Aceh, Samarinda, Surabaya, Makasar, Jayapura, dan Banjarmasin.
Dalam kunjungannya di UNY, Tim dari Real Madrid Foundaiton juga berkesempatan meninjau Stadion Atletik dan Sepakbola FIK UNY serta berdialog dengan anak anak usia SD dan siswa Selabora Sepakbola FIK UNY. Sore hari, sebelum terbang ke Surabaya, Ignatius menyempatkan diri menikmati pijat relaksasi di Klinik Terapi FIK UNY. (ratnae/ls)