TRAINING OF TRAINERS INTERNATIONAL SOCIAL SPORTS DEVELOPMENT FOUNDATION REAL MADRID FOUNDATION
Primary tabs
Submitted by

adminuny

on Tue, 2012-03-20 16:22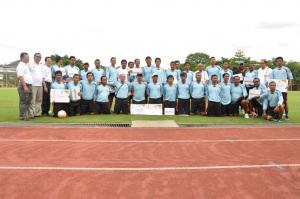 Selama lima hari mulai 28 Februari sampai dengan 3 Maret 2012, Fakultas Ilmu Keolahragaan (FIK) Universitas Negeri Yogyakarta menjadi ajang berlatih untuk para calon instruktur Sekolah Sosial Olahraga Internasional Yayasan Real Madrid. Sebelumnya, pada akhir tahun 2012 telah disepakati penandatanganan Master of Understanding di Spanyol, menyusul disetujuinya tujuh lokasi awal di Indonesia yang disepakai untuk berdirinya Sekolah Sosial Olahraga Internasional Yayasan Real Madrid (International Social Sport School Real Madrid Foundation). Tujuh lokasi tersebut meliputi: Aceh, Samarinda, Banjarmasin, Sidoharjo, Makasar, Jayapura, dan Yogyakarta.
Para instruktur yang berasal dari tujuh wilayah di Indonesia digembleng langsung oleh Yayasan Real Madrid Foundation mengenai materi untuk SSS Real Madrid mendatang. Masing-masing daerah mengikutkan lima orang peserta dan satu orang koordinator/penanggungjawab.
Acara Pembukaan Training of Trainers dihadiri oleh Ketua Yayasan Real Madrid Indonesia, Sekretaris Umum Football Assosiation Indonesia (FAI), Instruktur Real Madrid, Pengurus Dewan Yayasan Pengembangan Sosial Olahraga Internasional, serta Wakil Rektor III UNY, Prof. Dr. Herminarto Sofyan. (ratnae/ls).